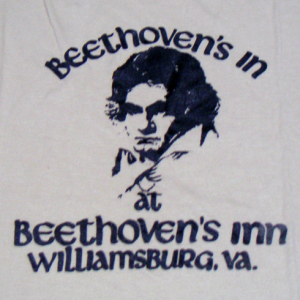 From birth to present I've lived in Williamsburg exactly one summer and one full year.
The summer I speak of was in 1986 when my mother, father, and I moved from Dandy in York County to Kingspoint in Williamsburg. The morning after the move, my parents decided to get a divorce, and so that Williamsburg stay was limited to one summer. I was disappointed (on a few counts).
My second stint as a citizen of Williamsburg came after I graduated CNU and moved to an apartment there, where I lived while working for an engineering firm in Newport News. The year was 1996 — ten years later.
While I've spent a rather small percentage of my life as a Williamsburg resident, I've spent a great deal of time in Williamsburg. I love the colonial atmosphere and have enjoyed frequently visiting with my family, as both child and adult. I also had a habit of dating Williamsburg girls in my youth (and outside that, those I met in Williamsburg, at any rate). Ahh, the romance of Williamsburg…
Nowadays, most of my family's visits are centered around the Great Wolf Lodge, which my daughter loves. But at each visit my mind wanders back — far back — to people and places that were truly special to me. One of them is the now defunct Beethoven's Inn which was located on Merrimac Trail in Williamsburg.
Beethoven's Inn was a special place. It was a New York-style deli that was opened by Jim Wesson on December 16, 1975, 205 years — to the day — after Beethoven's birth.
I formed wonderful memories there. It had a rich atmosphere with lovely classical music always on tap. The sign at the door warned, "We are a slow food restaurant. Please sit back and enjoy the great food and good music." Despite the warning, the service was snappy and, as the warning suggests, the classical music was lovely.
I visited for the first time around the age of 12 with my mother. Another notable visit was the evening  in 1985 that the computer geek that was me (and still is me) brought home an original 128K Macintosh from Next Generation Computers in the King's Mill Village Shoppes. My family and I stopped in for dinner on the way home. I was super excited, and the meal was part of it. Memorable. Years later, I visited on numerous occasions with (Williamsburg) girlfriends and various other pals. We always had a great time. My favorite menu item was, as I recall, the "Handel, Bach & Scarlatti." As with all of the sandwiches, it came with a cup of home-made soup.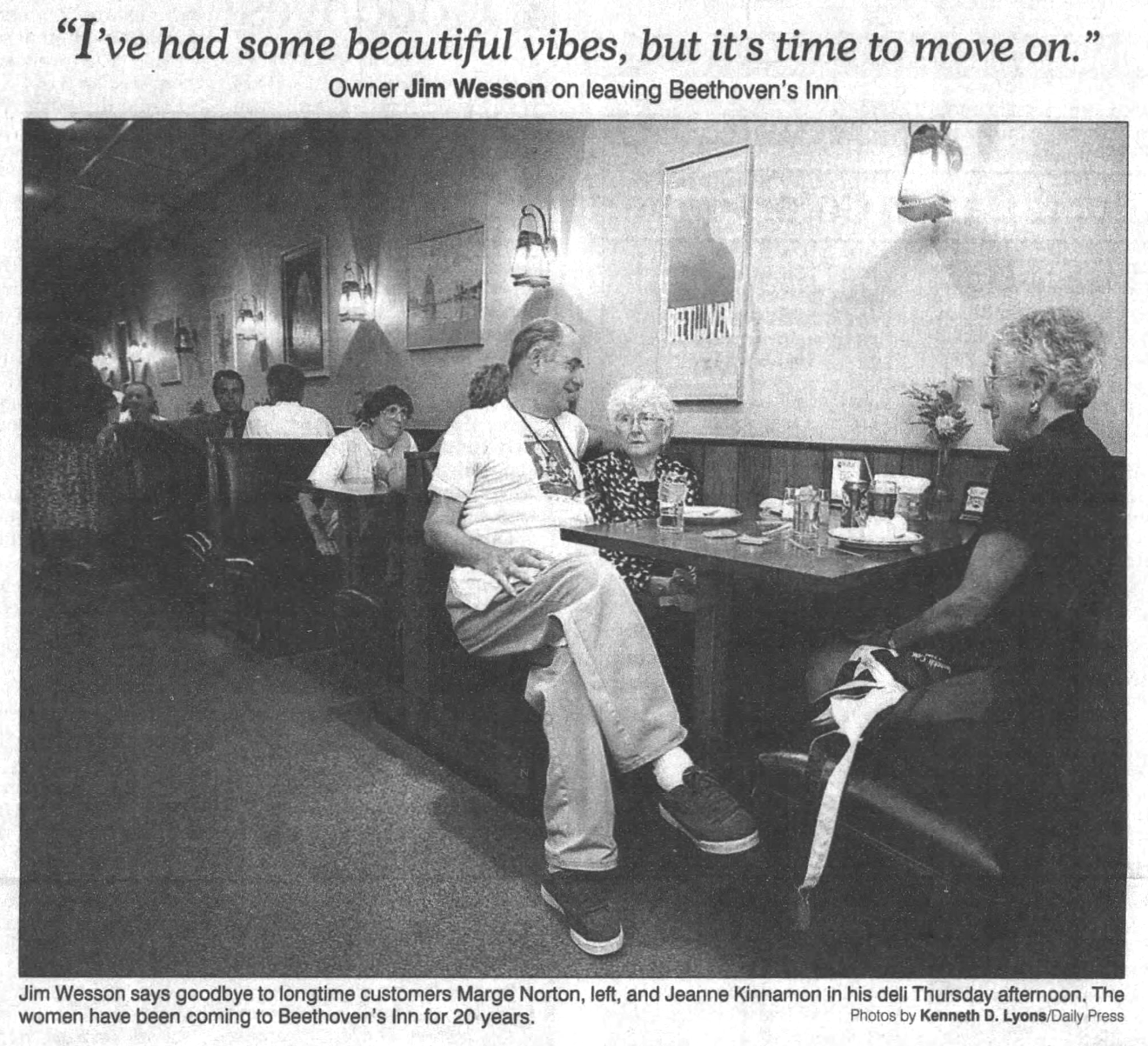 Wesson sold the deli to Beth Bockelmann and long-time employee Dave Andrews in 1998. They ran it for a few years, but sadly the story ended not long after. Beethoven's Inn was closed for good and memorabelia apparently auctioned off. I would love to have heard about that in time to walk away with a keepsake, but the news came late to me, living here in Alexandria.
I never had the chance to show the Inn to my wife or my daughter.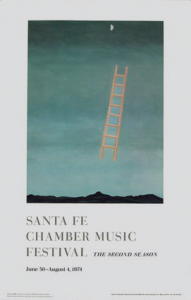 A couple of years ago I dug into the history that I've laid out here and tried to make contact with some of the owners and their families (old email addresses, Facebook, LinkedIn) in hopes of acquiring simply a single photograph of the interior of the place. I came up blank, sadly. I so liked the atmosphere that, when I came across it, living in Charlottesville, I purchased an O'Keefe print that was displayed on the back wall of the Inn and had it on my den wall for years (it's now in my office in D.C.).
Beethoven's Inn. It was a lovely place where I formed lovely memories. Surely I'm not alone in this. Please share your experiences — and your photos.
Update [January 9, 2017]: Please read my follow-up post, Memorabilia and Memories of Beethoven's Inn.
Update [August 6, 2019]: I've uncovered an article from the Daily Press newspaper (July 31, 1998) covering the closure of the Beethoven's Inn that included a photo of Jim Wesson and the interior of the Inn. I have added the photo to this post.