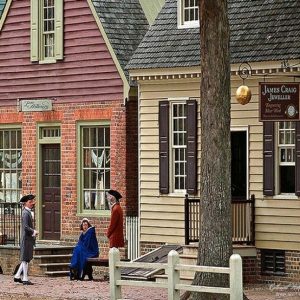 I was standing with my parents in a crowd along Duke of Gloucester street in Colonial Williamsburg one autumn day in 1978. I remember the moment well, though I was only six years old at the time. People had gathered to meet Perry Como and John Wayne who were scheduled to make a public appearance in the vicinity of the colonial Printing Office & Post Office. They were in Williamsburg filming the upcoming Perry Como's Early American Christmas TV special, which aired a short time later, on Friday, December 13th.
My father was a particular fan of Perry Como (though I didn't know who he was), and so we arrived early in order to find a good spot to meet the celebrities as they came out onto the street. We were waiting there for some time; as I recall the singer and actor were running a bit late (the latter moreso than the former, it would turn out). Finally and to much applause Perry Como emerged from a garden path that ran between two of the colonial houses on the streetside. He was alone, and began shaking hands and chatting with the crowd.
It seemed that I was the only one frustrated that John Wayne hadn't yet appeared. After staring down that path for several minutes, I turned and loudly cried out in a voice heard by all, "Wait a minute! Where's John Wayne?!" It was laughter all around and a smiling Perry Como walked over and tousled my hair!
My parents told that story to friends and family more times than I could count, over the years. It's an amusing little anecdote I wanted to share, as I just noticed that the entire 42-minute Christmas special has recently been placed online (thanks Cost Ander). You can see it above (here's the direct link) and here is a WAVY TV-10 news report from 1978 in which local anchor Bruce Rader discusses the filming of the TV special.
I have a great pile of movies and TV specials of olde that I watch religiously every year around the holidays — and I drive my wife and daughter crazy with some of them (Little Lord Fauntleroy (1980) yearly is too much for some, apparently). It's a real treat to be able to add this Christmas special, of which I have a very particular memory, to the list.
UPDATE [Dec. 25 2016]: The Williamsburg publication Williamsburg Yorktown Daily picked up my blog post and did a post of their own about me and the event, "John Wayne came to Colonial Williamsburg — and this boy wouldn't take no for an answer." Fun!