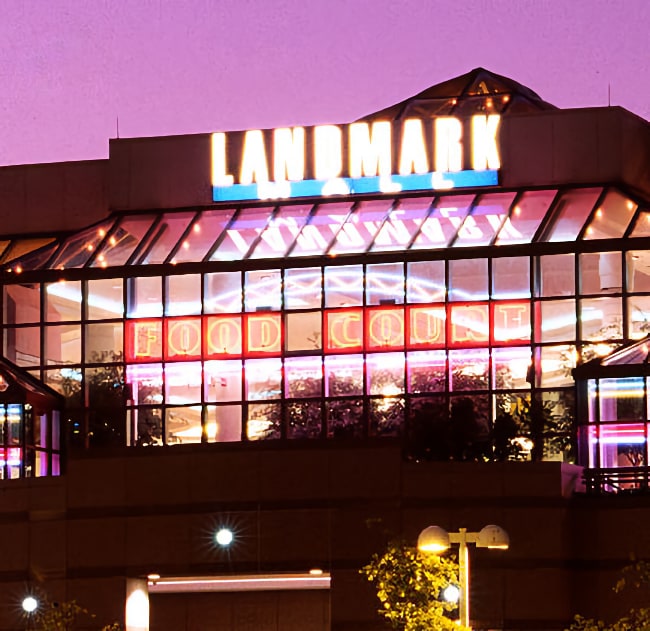 At the time of this post, I have lived in Alexandria City for 22 years, but I was not born here.
Many of the posts I've written here are to do with places and events related to the Hampton Roads area, where I grew up. One such post shares my memories and experiences connected to Coliseum Mall that once was, in the City of Hampton in southern Virginia. (I spent a quite a bit of time there, as a youth.)
My wife, on the other hand, was born here. Well, not here in Alexandria where we currently reside, but just a couple of miles west in Annandale. The Strathmeade neighborhood in which she lived as a youth is located in the northwest portion of Annandale, putting it close to the Tysons Corner area in McLean / Vienna, which is home to not one but two of the most famous malls in America, Tysons Corner Center and Tysons Galleria. In her youth, she and her crew of friends would walk a few blocks, jump on a bus (for only a quarter), and hang out at Tysons on many of those wide-open summer days. But, for any real structured shopping missions, it was another nearby mall she and her family patronized: Landmark Shopping Center.
Landmark Shopping Center, originally an outdoor mall located at the far western edge of Alexandria City at 5801 Duke Street, immediately off of Interstate 395 at exit 3, officially opened it doors in October of 1965 with 32 stores including anchors The Hecht Co., Sears and Roebuck, and Woodward and Lothrop. As originally opened, Landmark was a 675,000-square-foot center with a 4,000-space parking lot, the largest in the city.
In 1990, Landmark underwent a massive re-development during which it was converted from a single-story outdoor complex to a fully-enclosed three-story mall.
During the process of buying the house in Old Town Alexandria that my then-fiancée and I would move into in the summer of 1998, I made several trips up to the area from Charlottesville to meet with our realtor. Northern Virginia was still quite alien to me at that time, and the first notable part of Alexandria that I spotted on every trip as I exited the Interstate was Landmark Mall.
My wife and I did much of our shopping at Landmark for the next 15 years. (We didn't even log into Amazon at all until 2000/01.) I remember frequenting their nicely varied food court on the third floor, Barnie's coffee shop just inside the front entrance, a video game store where I bought more than a few titles over the years, the arcade, Waldenbooks, FYE, Sears, Macy's, and a variety of other shops over the years. I even got my hair cut their regularly, at Bubbles. A list of all stores within the mall as it existed in October 2004 is shown below, taken from an archive of the Landmark website.
When our daughter was a toddler we started taking her to the open play area in the center of the bottom floor. For a while there was a train for kids that ran the perimeter of the lower floors. I recall squeezing myself on board a few times to take the ride with my daughter. There was even a traveling carnival that would take up camp in the front parking lot for a while, most summers. Those were good times and they formed very pleasant memories.
As the years wore on, though, the place started to dry up. Shops started closing one by one and with 2010 a few years behind us it was becoming a rather desolate space. At the time, the Howard Hughes Corporation had plans to revitalize the mall into a booming urban town, but these never came to fruition. (An archived Howard Hugues development page gives a glimpse of what "The New Landmark" might have been.) More and more shops closed, with Macy's shuttering on January 4, 2017 (it was later turned into a homeless shelter). Tenants were told to vacate the space by January 31 of that same year, and that was basically the end of Landmark Mall.
I consider the '80s to be the golden time of my youth. I am a massive fan of all-things-'80s — to the extreme — as my daughter could painfully tell you. This being the case, I was quite intrigued to hear that the derelict mall was being made up as a set for a portion of the in-development movie Wonder Woman 1984 (which, as a film I must say, is not exactly my cup of tea). To facilitate this, all three floors of the central core of the mall were made into a visage of what the fully-enclosed mall may have looked like in the mid-'80s, had it then existed as such (as opposed to the outdoor center designed in the '60s that it was). I was anxious to see the result, and a few months ago a teaser trailer for the movie was released that showed just that (and the movie has since been released). It is pretty glorious, in that glowing, neon '80s way.
A desire to share a few glimpses of Landmark Mall "from the '80s" is what prompted me to put this post together, sharing my own memories of this place, in the doing. Landmark making its way to the silver screen, even though "in costume," seems a nice last hoorah for this now-dead mall.
The final chapter in this story is the news that landed in just the past few weeks. The Landmark Mall complex will be converted to an Inova medical campus and community area. (Inova is a leading hospital network in the region.) The land will be put to good use, but after all these years, the mall is no more.
Related Links:
Fifth photo in gallery 2 of 3, full floor to ceiling three-story photo, courtesy of Steve Swain and his gallery (linked above).