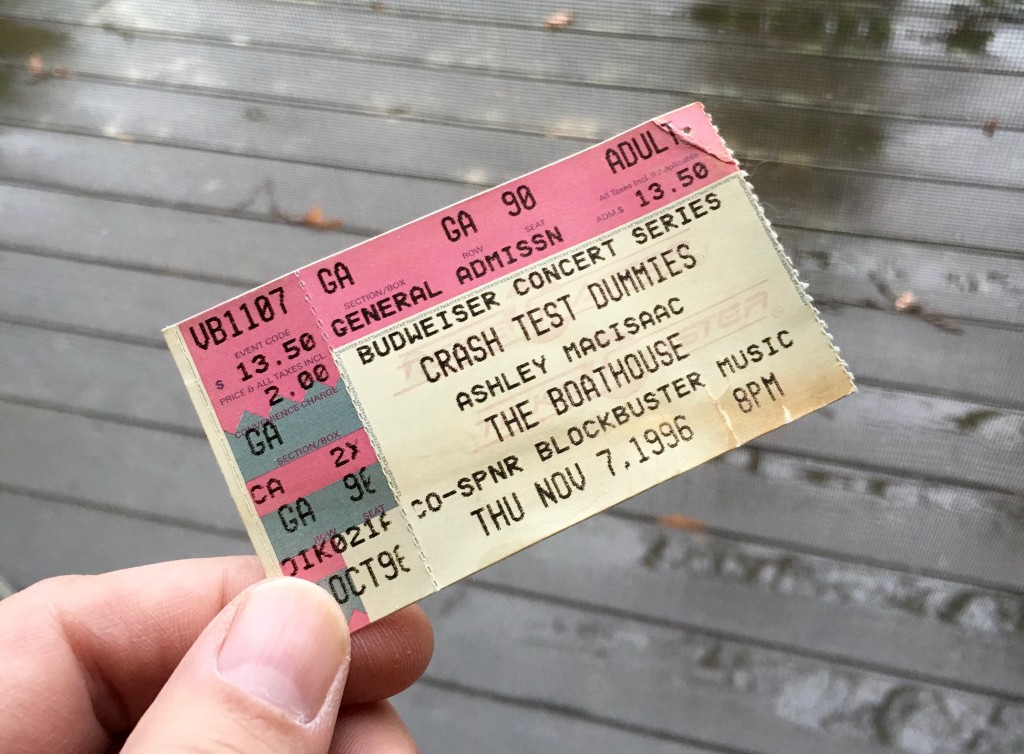 This morning I found this concert ticket at the back of my dresser drawer while rummaging about for something or other. That Crash Test Dummies show back in 1996 was the last time I ever set foot in my favorite concert venue, The Boathouse in Norfolk. It was also my second date with she who would become my wife (presently of 17 years). I'm glad she got to see it before it died.
Here's a bit of history about The Boathouse from a 2004 Virginian-Pilot article that has also faded out of existence (thanks Internet Archive):
The Boathouse started as an adjunct to Bessie's Place, the cavernous farmers/flea market that opened in mid-1983 where Harbor Park now stands.

The market's management asked Cellar Door Concert's Bill Reid to look at the old warehouse on a pier to see if it might be usable.

Reid, now president of Rising Tide Productions, remembers walking into the decrepit place.

"You could literally see the water underneath when we walked in," Reid said. But he got it into shape and began booking bands to play. The first were the Skip Castro Band and the Knighthawks.

He innovated by offering all-ages shows, one of the first venues in the country to do so. Those of drinking age were segregated from those who weren't by a moveable wall of chicken wire.

"At the time, there just wasn't a good concert venue for smaller drawing acts," said Maisey, also a free-lance music writer for The Virginian-Pilot .
Sadly, late 2003 brought Hurricane Isabel and it was more than that wondrous warehouse on a pier on the Elizabeth River could bear.
The Boathouse was an incredible concert hall and I have a great many wonderful memories enjoying concerts there with friends throughout high school and college. I've been on both sides of that chicken-wire fence as the years rolled by. I even arm-wrestled a bouncer. (He won.)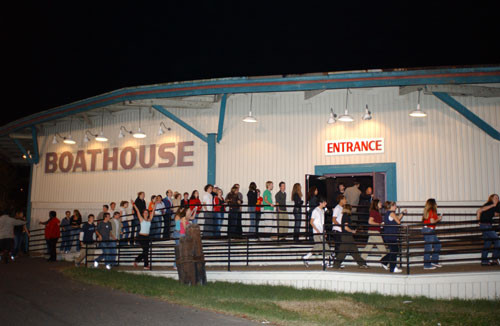 Some of the headliners I recall seeing at The Boathouse include They Might Be Giants, Violent Femmes, Waxing Poetics, The Smithereens, Bad Religion, James, The Replacements, Pixies, The Connells, Faith No More, BoDeans, Tori Amos, and Crash Test Dummies. And yes, I saw the best concert of my life there: They Might Be Giants on their Flood tour in 1990. Here's a nearly complete concert setlist running from 1983 to 2003.
I've been to a number of venues that are pointed in the same direction, but none have ever come close to the experience that was The Boathouse.